RP11-552D4.1: a novel m6a-related LncRNA associated with immune status in glioblastoma
1 Department of Neurosurgery, Shanghai Pudong New Area People's Hospital, Shanghai, China
2 Key Molecular Lab, Shanghai Pudong New Area People's Hospital, Shanghai, China
Received: January 22, 2022

     

Accepted: July 5, 2022

     

Published: July 18, 2022

     
https://doi.org/10.18632/aging.204177
How to Cite
Copyright: © 2022 Zheng et al. This is an open access article distributed under the terms of the Creative Commons Attribution License (CC BY 3.0), which permits unrestricted use, distribution, and reproduction in any medium, provided the original author and source are credited.
Abstract
Glioblastoma (GBM) is the most malignant form of brain cancer in the world. Nevertheless, the survival rate of patients with GBM is extremely low. N6-methyladenosine (m6A) and long noncoding RNAs (lncRNAs) conduct important biological functions in patients' survival status and the immunotherapeutic response. Here, m6A-related lncRNAs were identified by a co-expression method. Univariate and multivariate Cox regression together with LASSO were applied to establish the risk model. Kaplan-Meier and ROC analysis were applied to evaluate the prediction power of this risk model. Finally, the related immune profiling and chemical sensitivity targets were also investigated. The risk model holding three m6A-related lncRNAs was confirmed as an independent predictor for the prognosis. Furthermore, we found the risk model based on m6A-related lncRNAs is associated with the immune status, immunosuppressive biomarkers, and chemo-sensitivity in GBM patients. The RP11-552D4.1 is found to facilitate neuronal proliferation. This risk model consisted of m6A-related lncRNAs may be available for the clinical interventions in GBM patients.
Introduction
Glioma is one of the common malignant brain tumors, which accounts for 30% of adult brain cancer, and its incidence rate is rising every year [1, 2]. The most malignant pathological type is glioblastoma (GBM), which accounts for about 70–80% of adult glioma [2]. Compared with low-grade glioma (LGG) and astrocytoma, GBM demonstrates a very poor outcome and is more likely to metastasize [3]. When GBM appears to metastasize, its outcome is less favorable [4]. The curative treatment of early GBM is total resection. Nevertheless, one-third of patients are under a recurrence after brain surgery [5], even treated together with gene therapy and immune therapy, and the overall survival of GBM patients is still very shorter [6].
Several lncRNAs in the brain are specifically related to neuronal and synaptic function [7]. LncRNAs constitute a large class of post-transcriptional regulators, some of which can act as ceRNAs to inhibit microRNAs (miRNAs) in the brain [8, 9]. For instance, lnc -NKILA acts as a miR-195 sponge, leading to increased expression of miR-195 target gene NLRX1, particularly in neocortical and hippocampal neurons [10].
Epigenetic modification in GBM plays a key role in tumor initiation and progression [11, 12]. M6A is a dominant RNA modification on both coding and non-coding RNAs. A series of studies have demonstrated that m6A methylation has a critical effect in the tumor initiation and progression [13–15]. M6A-related genes can be divided into writers, erasers and readers [16, 17]. We previously reported that lncRNA-ATB may participate in tumorigenesis through targeting NF-κB and P38/MAPK [18]; On the other hand, lncRNA-ATB could also activate the astrocyte via miR-204-3p [19] and miR-200a [20] to promote the progression of glioma. However, lncRNA MEG3 can be regulated by DNA methylation and further inhibit glioma growth [21]. The double-faced role of lncRNAs in glioma might be due to its m6A modification style. Few studies have investigated the combination of m6A related lncRNAs in cancers, especially in GBM. Therefore, we constructed a GBM risk model to study the prognostic utility of m6A related genes in GBM.
Materials and Methods
Data acquisition
GBM data was available from the Cancer Genome Atlas (TCGA) on Oct 01, 2020, which consists of clinical data (survival status, age, sex, race), mutation files of the SNP, and gene expression profiles. Clinical information was available on 169 TCGA GBM samples and five control samples. Chinese Glioma Genome Atlas (CGGA) data are used for verification of the interested genes. Clinical information of GBM patients was downloaded from the TCGA website as well. Only the clinical information of patients with confirmed GBM pathology was included for final bioinformatic analysis. The candidate m6A gene sets were searched from "c2.cp.kegg. v7.0. symbols" of Gene Set Enrichment Analysis (GSEA). The correlation between lncRNAs and m6A genes was analyzed with co-expression methods. The inclusion criteria of m6A-related lncRNAs were based on Pearson coefficient more than 0.4 and p-value less than 0.001. The "Limma" R package was used to identify the m6A-related lncRNAs, and logFC >1 and false discovery rate (FDR) <0.05 was used to identify differently- expressed m6A-related lncRNA (DEmlncRNA). The flow chart for the current study is briefly summarized in Figure 1.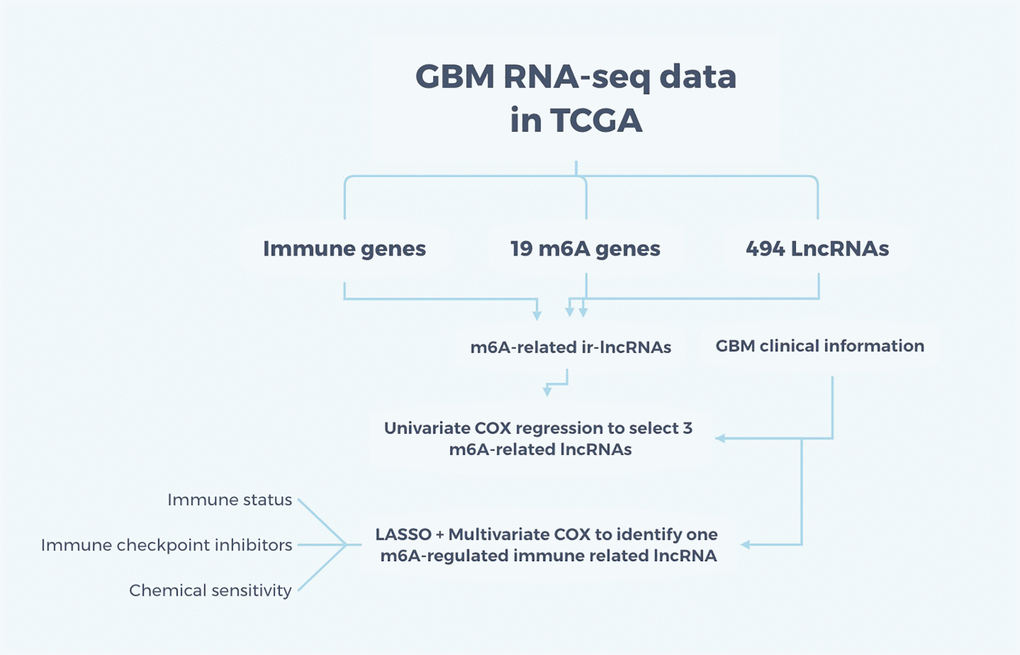 Figure 1. Flow chart of the study. The RNA-seq data for GBM were obtained from TCGA and m6A-related immune lncRNAs were intersected among immune genes, 19 m6A genes, and 494 differently-expressed lncRNAs. Adding the clinical information, univariate and multivariate COX regression and LASSO were applied to identify one m6A-regulated ir-lncRNA which is correlated with the survival status of GBM patients. Then, the ir-lncRNAs were analyzed for immune status, immune checkpoint inhibitors, and chemical sensitivity for GBM.

Survival status correlation
We only included patients with GBM holding effective survival data from 2 days to 3881 days. Both univariate and multiple Cox model was used to assess the relationship between m6A-related lncRNAs and the survival status of GBM patient (P < 0.05). Risk score = Coefficient of mRNA × lncRNAs. The least absolute shrinkage and selection operator (LASSO) method is further applied to identify the exact coefficient of each DEmlncRNA based on the survival status. R packages "survival" and "survminer" were used to compare the survival status between the high-and low-risk group.
Prognostic signature construction
The survivalROC package was used to draw the Receiver Operating Characteristic (ROC) curve, in order to evaluate the prediction ability of the risk model. By integrating clinical features into Cox models, a prognostic signature was identified as dependent or independent factors. In addition, we drew the one-, two- and three-year ROC curves and obtained the highest area under curve (AUC) value.
Tumor-infiltrating cells (TILs) in GBM
We next investigated the association between risk group and TILs, with different immune infiltration analysis algorithm. Wilcoxon signed-rank test was used to compare the number of TILs between high- and low-risk groups. The correlation between riskScores and TILs was investigated by the Spearman method. A lollipop plot shows the correlation coefficient.
Expression of immune-checkpoint inhibitor (ICI) markers
The correlation between riskScores and the ICI markers was investigated by Wilcoxon signed-rank test and further visualized with ggstatsplot package.
The association between the risk model and the clinical therapy
In order to evaluate the clinical value of the risk model in GBM, the half maximal inhibitory concentration (IC50) of commonly used chemotherapy drugs for GBM patients was investigated. Most medicines were evaluated with pRRophetic package. Wilcoxon signed-rank test was carried out to compare the different IC50 between the high- and low-risk scores.
Reagents and antibodies
Mouse monoclonal to MAP2 (ab11267, Abcam) and rabbit monoclonal to β-tubulin (ab201831, Abcam) were utilized to evaluate the cell proliferation for IFC.
Primary cortical neuronal cultures and plasmids treated IFC
Primary culture of cortical neurons was previously reported [22]. Plasmid-mediated lncRNA overexpression and knockdown vector were obtained from Yazai biotech (Shanghai, China), siRNAs targeting RP11-552D4.1 were bought from Thermo Fisher Scientific (n505669, Shanghai, China) and control plasmid was ordered from GeneCopoeia (Rockville, MD, USA). The immunofluorescence (IFC) method was previously reported as well. In this study, we probed the cultured neurons with MAP2 and β-tubulin overnight and the secondary antibody was HRP.
CCK-8 assay
Each group of cells was adjusted at 1,000 cells per well. 10 mL of CCK-8 solution (Beyotime Biotechnology, Shanghai, China) was added to the cell dish after 24 hours, and a blank control has only CCK-8 solution. Absorbance (OD) value of each well was read for each well at 450 nm and tested every 24 hours for three days.
Results
Discussion
M6A-related lncRNA is a recent hot topic in the neuroscience field. Current studies have investigated the correlation between the m6A-related lncRNA and the risk of cancer. However, its role in glioma, even GBM is missing. So, whether the expression level of m6A-related lncRNAs has a relationship with the outcome of GBM patients' needs to be addressed. The lncRNAs included in this model are related to m6A-genes based on co-expressed methods, so these lncRNAs may be regulated by m6A genes.
A recent review paper summarized m6A RNA methylation in brain tumor and reported that several m6A molecules differentially expressed in glioma from the CGGA dataset [23]. However, most m6A molecules directly regulated by miRNAs or indirectly adjusted by lncRNAs or circRNAs with a competitive endogenous RNA mechanism. There were very few reports regarding the lncRNAs directly modified by m6A methylation. Meanwhile, another bioinformatical study focusing on the m6A regulators in GBM identified that the risk score consists of HNRNPC, ALKBH5 and FTO could predict the survival outcome in GBM patients independently [24]. Again, this study did not further investigate the target genes of these m6A regulators. Therefore, we identified the prognosis-related DEmlncRNAs to construct a reliable model to predict the OS in GBM patients. Univariate and multivariate Cox models demonstrated that this risk model could predict the prognostic outcome of GBM patients, and it is independent of other clinical indices, such as patients' age and gender. The risk score obtained from the model was more accurate against other clinical features in predicting survival status based on ROC analysis.
In addition, the chemotherapy sensitivity for GBM was investigated. The difference between risk groups and immune status and ICI genes were also investigated, which suggested this risk model was able to classify GBM patients who might be suitable for immunotherapy.
The response of ICI blockers is associated with TILs [25–27]. Our study applied customized immunol gene sets to study the correlation between risk factors and TILs. Our results demonstrated that DEmlncRNAs show a positive relationship with tumor-infiltrating immune cells such as neutrophils and monocytes, while negatively correlated with  CD4+ and CD8+T cells. In addition, our study indicates that the high-risk group in GBM was associated with chemotherapy sensitivity such as PARP inhibitor, instead of metformin, which provides potential targets for immunotherapy in GBM.
RP11-552D4.1 is previously found to decrease in heart failure [28], which indicates that it might exert its function on cellular proliferation. In our study, we investigated the effect of RP11-552D4.1 on the primary cultured neurons and found the knockdown of RP11-552D4.1 could inhibit the proliferation of neurons while overexpressed RP11-552D4.1 have the opposite effect, which indicates that RP11-552D4.1 is able to facilitate neuronal proliferation. And this is consistent with our findings that RP11-552D4.1 could become an independent risk factor for glioblastoma. From the Ensemble website, we could find the Ensembl ID of RP11-552D4.1 is ENSG00000228058 and the official symbol is LINC10736.
After literature review, LINC01736 is previously found to act as a protective factor in THCA, although with a high expression [29]. We, therefore, investigated the expression of related prognosis in TCGA and found the expression of LINC01736 is all increased in GBM, LGG, and THCA, however, it is positively correlated with the survival status in LGG, while negatively associated with the OS in THCA and GBM (the latter did not reach the statistical difference) from the KM plot (Supplementary Figure 2). Then, we investigated the LINC01736-related immune cell infiltration with the ssGSEA method [30]. We found LINC01736 is positively associated with the NK CD56bright enrichment in THCA and GBM (the latter did not reach the statistical difference), and negatively correlated with the NK CD56bright enrichment in LGG (Supplementary Figure 3), which suggests that LINC01736 exerts a different role in NK cell recruitment in different tumors. This explained why the expression of LINC01736 is increased in GBM and THCA, and seems to be a protectant factor in these tumors.
We have to commit that there are several limitations in this study. Firstly, the data was from public datasets and the sensitivity of drugs commonly used in the treatment of GBM, such as temozolomide has not been investigated; Secondly, the established risk model needs external verification, such as in-vivo study because the expression level of GBM shows heterogeneity, which results in the unreliability of the algorithm model. Although the lack of in-vivo validation, we applied COX and LASSO methods to establish the risk model with an independent prediction ability and identified one novel m6A-related lncRNA and further in-vivo studies are needed to validate its role in anti-GBM.
Conclusion
In summary, we used m6A-related lncRNAs to construct a risk model that exactly predicts the outcomes in GBM patients. Furthermore, this model reflects the dysregulated immune infiltration status in GBM and provides potential targets for immunotherapy.
Author Contributions
Ping Zheng conceived and designed the study. Ping Zheng, Xiaoxue Zhang and Dabin Ren performed the data analysis. Dabin Ren did the cell study. Ping Zheng and Yisong Zhang wrote the manuscript. All authors read and approved the final version.
Conflicts of Interest
The authors declare no conflicts of interest related to this study.
Funding
This work was supported by Natural Science Foundation of China (Grant Number:81701231), and also funded by The Featured Clinical Discipline Project of Shanghai Pudong (PWYst2018-01) and Key Discipline Group Construction Project of Shanghai Pudong (PWZxq2017-02).
References