A preclinical study: correlation between PD-L1 PET imaging and the prediction of therapy efficacy of MC38 tumor with 68Ga-labeled PD-L1 targeted nanobody
1 Tianjin Medical University, Tianjin 300070, P.R. China
2 Department of Radiation Oncology, First Affiliated Hospital of Soochow University, Suzhou 215006, P.R. China
3 School of Graduate Studies, Shandong First Medical University and Shandong Academy of Medical Sciences, Jinan 271099, P.R. China
4 Department of Radiation Oncology, Shandong Cancer Hospital and Institute, Shandong First Medical University and Shandong Academy of Medical Sciences, Jinan 250017, P.R. China
5 Department of Radiation Oncology, The Fourth People's Hospital of Jinan, Jinan 250031, P.R. China
6 School of Pharmacy, Yantai University, Yantai 264003, P.R. China
7 Smart Nuclide Biotech, Suzhou 215123, P.R. China
8 School of Clinical Medicine, Weifang Medical University, Weifang 261053, P.R. China
9 Department of Nuclear Medicine, Shandong Cancer Hospital and Institute, Shandong First Medical University and Shandong Academy of Medical Sciences, Jinan 250017, P.R. China
* Equal contribution
Received: May 28, 2020

     

Accepted: February 16, 2021

     

Published: April 27, 2021

     
https://doi.org/10.18632/aging.202981
How to Cite
Copyright: © 2021 Qin et al. This is an open access article distributed under the terms of the Creative Commons Attribution License (CC BY 3.0), which permits unrestricted use, distribution, and reproduction in any medium, provided the original author and source are credited.
Abstract
Although immunotherapy has achieved great clinical success in clinical outcomes, especially the anti-PD-1 or anti-PD-L1 antibodies, not all patients respond to anti-PD-1 immunotherapy. It is urgently required for a clinical diagnosis to develop non-invasive imaging meditated strategy for assessing the expression level of PD-L1 in tumors. In this work, a 68Ga-labeled single-domain antibody tracer, 68Ga-NOTA-Nb109, was designed for specific and noninvasive imaging of PD-L1 expression in an MC38 tumor-bearing mouse model. Comprehensive studies including Positron Emission Tomography (PET), biodistribution, blocking studies, immunohistochemistry, and immunotherapy, have been performed in differences PD-L1 expression tumor-bearing models. These results revealed that 68Ga-NOTA-Nb109 specifically accumulated in the MC38-hPD-L1 tumor. The content of this nanobody in MC38 hPD-L1 tumor and MC38 Mixed tumor was 8.2 ± 1.3, 7.3 ± 1.2, 3.7 ± 1.5, 2.3 ± 1.2%ID/g and 7.5 ± 1.4, 3.6 ± 1.7, 1.7 ± 0.6, 1.2 ± 0.5%ID/g at 0.5, 1, 1.5, 2 hours post-injection, respectively. 68Ga-NOTA-Nb109 has the potential to further noninvasive PET imaging and therapy effectiveness assessments based on the PD-L1 status in tumors. To explore the possible synergistic effects of immunotherapy combined with chemotherapy, MC38 xenografts with different sensitivity to PD-L1 blockade were established. In addition, we found that PD-1 blockade also had efficacy on the PD-L1 knockout tumors. RT-PCR and immunofluorescence analysis were used to detect the expression of PD-L1. It was observed that both mouse and human PD-L1 expressed among three types of MC38 tumors. These results suggest that PD-L1 on tumor cells affect the efficacy, but it on host myeloid cells might be essential for checkpoint blockade. Moreover, anti–PD-1 treatment activates tumor-reactive CD103+ CD39+ CD8+T cells (TILs) in tumor microenvironment.
Introduction
The programmed cell death protein-1 (PD-1)/programmed death receptor ligand 1 (PD-L1) axis, which plays a critical role in helping cancer cells to escape from the immune response, has been extensively studied in cancer immunotherapy [1]. When the PD-1 receptor binds to its ligands PD-L1, the activation of T cells is inhibited. Although PD-1/PD-L1 checkpoint block therapy has changed the management of various tumors and obtained unexpected response [2, 3], lots of cancer patients failed in this new treatment [4]. Some studies have shown that the tumors PD-L1 protein levels can predict the efficacy of PD-1/PD-L1 checkpoint block therapy [5–7]. So it is crucial to select patients who can benefit from immune checkpoint blockades therapy by analyzing the PD-L1 expression in patients before treatment.
Currently, the status of PD-L1 is determined by immunohistochemistry (IHC) method. However, checkpoint molecules are highly dynamic, and heterogeneity and the change of their expression are difficult to obtain, as single time-point biopsies provide limited information throughout a treatment regimen [8]. Recently, non-invasive techniques, such as molecular imaging, can provide real-time data of the total PD-L1 expression in all lesions, complementing the existing immunohistochemical methods [9]. Some studies have shown the advantage of positron emission tomography (PET) imaging with radiolabeled anti-PD-L1 antibodies on the detection of PD-L1 expression over IHC [10]. Meanwhile, some clinical studies have confirmed the potential of PD-L1 PET imaging in cancer patients by the correlations between prognosis and tracer accumulation levels [11, 12]. PD-L1 PET imaging can present the summary amount of PD-L1 expression in cancer patients, both in primary tumors and metastases. Thus, visualizing this expression and the change in different therapies could not only provide scientific insights into synergistic mechanisms but may also benefit cancer patients in making more rational treatment decisions.
Nanobodies of high affinity and specificity can be used as an efficient PET imaging agent of PD-L1, which could increase the uptake in PD-L1-positive tumors and lower the background signal [13]. In this work, Nb109, a non-blocking nanobody with a high selective affinity for PD-L1, was radiolabeled with 68Ga (t1/2=49.79min) and it showed high potential applications for guiding immunotherapy. As our recent study [14], the biodistribution and PET imaging studies of 68Ga-NOTA-Nb109 demonstrate its PD-L1 specificity in tumor models with PD-L1 expression variation. In addition, such non-invasive real-time imaging tracer can distinguish the expression level of PD-L1 in malignant tumors. For further clinical conversion, we identified the ability of 68Ga-NOTA-Nb109 in PD-L1 imaging expression in MC38 xenograft tumors and explored whether it can assess the effectiveness of treatment.
Besides, the resistance and relapse of the tumor often require immunotherapy by combining other therapies [15]. Even so, its mechanism and the involved dynamic process are still mostly a mystery. Sindilizumab, a new PD-1 targeting antibody, could effectively inhibit tumor growth with higher PD-L1 expression but not the lower one. This antibody is a human immunoglobulin G4 (IgG4) monoclonal antibody (HuMAb), which can bind to the PD-1 receptor, blocking the interaction with PD-L1 and PD-L2, and prevent the tumor immunosuppressive response mediated by PD-1 pathway. The binding sites are different between 68Ga-NOTA-Nb109 and Sindilizumab to receptor, so there is theoretically no impact on the specific binding of the probe to PD-L1. Then we used Sindilizumab on the xenograft models and want to explore the possibility of molecular imaging in predicting curative effect for the combined treatment.
Materials and Methods
Materials
All solvents and reagents were provided by Sigma-Aldrich (Beijing, China). p-SCN-Bn-NOTA was from Macrocyclics (Dallas, USA). The PD-1 anti-body Sintilimab was kindly provided by Innovent Co. Ltd (Suzhou, China). The Nb109 antibody was obtained from Smart Nuclide Biotech (Suzhou, China). The mass spectra were measured by the high-resolution LTQ-Orbitrap XL mass spectrometer connected to a heated electrospray ionization source (Thermo Scientific, USA). The data were processed by Thermo Biopharma Finder 3.0. 68Ga was obtained from a 68Ga/68Ge generator (IGG-100, Eckert and Ziegler, Germany). High-Performance Liquid Chromatography (HPLC) was performed on Waters 2998 with a size-exclusion chromatogram (SEC) (G3000SWXL, TOSOH, Japan).
Antibody conjugation
The Nb109 antibody was purified by size-exclusion chromatography (SEC) HPLC, in which 0.01 M sodium phosphate buffer (pH 7.4) was using as the mobile phase at the flow rate of 1 mL/min and concentrated by ultrafiltration centrifugal tube (Amicon® Ultra-2 30 kDa centrifugal filter). Then the pH of the resulting solution was adjusted to 8.5-9.0 with PBS buffer (pH = 9). P-SCN-Bn-NOTA dissolved in DMSO was added in the solution. After incubating at 37° C for 1 hour, the antibody conjugate was purified twice with ultrafiltration centrifugal tube and PBS (pH=7.4). The antibody complex (NOTA-Nb109) stock solution was stored at 4° C.
Synthesis of the probe 68Ga-NOTA-Nb109
Add the conjugated complex (NOTA-Nb109) solution into the tube. And the reaction system pH was adjusted to 4.0 by adding 0.05 M HCl, following adding an aliquot of 68Ga 3+ (1 mL) in sodium acetate (225 μL of 0.25 M). After incubating for 10 min at 37° C, the antibody conjugate purifying was performed through PD-10 column. 68Ga-NOTA-Nb109 was eluted with saline, following with quality control for further study.
Cell lines and culture conditions
The colon cancer cell line MC38 was used. The MC38 stably expressing human PD-L1 cell line (MC38-hPD-L1) and MC38 PD-L1 knockout (MC38-KO) cell line were kindly provided by Smart Nuclide Biotech (Suzhou, China). Cell lines were cultured in RPMI 1640 with 10% fetal bovine serum (Gibco), with antibiotics (penicillin 100 IU/mL, and streptomycin 100 mg/mL). All the cells were cultured in an incubator at 37° C with 5% CO2 atmosphere.
Flow cytometry detective for PD-L1 expression
The expression of PD-L1 on three different types of cells, which include MC38-hPD-L1, MC38 wild type and MC38-KO was analyzed using PD-L1 antibody (Clone 44716, ab252436) by Beckman Coulter Cytomics FC 500 MPL (USA) according to procedures described previously [14].
Animal studies
Female human PD-1 transgenic C57BL/c mice (18-22 g; 5-7 weeks old) were obtained from Model Organisms Co., Ltd (Shanghai, China). Mice were inoculated subcutaneously with 1×106 different MC38 cells. To further demonstrate the PD-L1 targeting ability to 68Ga-NOTA-Nb109 and eliminate the individual differences, in each mouse, three different cancer cells, MC38-hPD-L1, the mixture of MC38-hPD-L1/MC38-KO (1/1, v/v) and MC38-KO were inoculated at the left hind leg, right hind-leg and right fore-leg respectively. Mice were used for imaging or biodistribution experiments when tumors reached about 250~350 mm3. All experiments for animal research were conducted according to the principles established by the ethical committee of Shandong Cancer Hospital.
Ex vivo biodistribution
Mice with three tumors xenografts models were randomly divided into two groups (n=5) and both groups were received an intravenous injection of 3.7 MBq of 68Ga-NOTA-Nb109. Biodistribution studies were performed as described previously [14]. After injection at 1 h and 2 hs, the mice were sacrificed, and the main organs were collected, weighed, and counted by a g counter. The uptake of the radiotracer was expressed as percentage injected dose per gram of tissue (%ID/g), which were measured in triplicate. Biodistribution data was expressed as mean ± the standard error of the mean (SEM).
MicroPET imaging studies
MicroPET imaging was performed on an Inveon microPET scanner (SiemensMedical Solutions, Germany). Xenograft mice were injected intravenously with 4.0-5.0 MBq 68Ga-NOTA-Nb109 and imaged (10 min) at 0.5, 1, 2, 4 hours post-injection. The mice were pre-treated with Sindilizumab (5 mg/kg) one day in advance in the blocking group. The mice were anesthetized with 1.5%–2% isoflurane in 0.5 L/min flow of oxygen. Dynamic images had been collected continuously in two hours. All the images were reconstructed using three-dimensional ordered subset expectation maximization (OSEM 3D/SP-MAP) without attenuation correction and then processed through the Siemens Inveon Research Workplace (IRW2.0.0.1050). The interest regions were drawn over both tumors and central organs, and the average signal levels in the regions were measured.
Tumor treatment models and growth delay assays
Therapy commenced when tumor volumes reached 60-80 mm3 on 7-8 days after cell inoculation (as day 0). Then mice were randomly divided into the following four groups (n = 5, per group): i) Untreated control, mice were injected with 100 μL of 0.9% sodium chloride;ii) anti PD-1 alone, mice were administered with Sindilizumab 10 mg/kg every other day for a total of five treatments; iii) chemotherapy alone, mice were intravenously injected with 5-Fu (50 mg/kg) and Oxa (Oxaliplatin; 5mg/kg) at the first day for once; iv) and chemotherapy plus anti-PD-1 therapy, mice were given with Sindilizumab, 5-Fu, and Oxa as the above methods and dosage. The different treatment therapies are shown in Figure 1A. The tumors were measured with a digital caliper (volume=length×width×width×0.5) [16]. As described in our previous study [17], the relative tumor volume (RTV) was calculated as follows: RTV = Vt / V0, where Vt is the volume at any given time and V0 is the initial volume before treatment. The RTV values were recorded every two days, and the tumor growth delay curve was analyzed. During animal experiments, the survival time was recorded from the date of treatment initiation to the date of death or sacrifice when the tumor volume had reached 2000 mm3.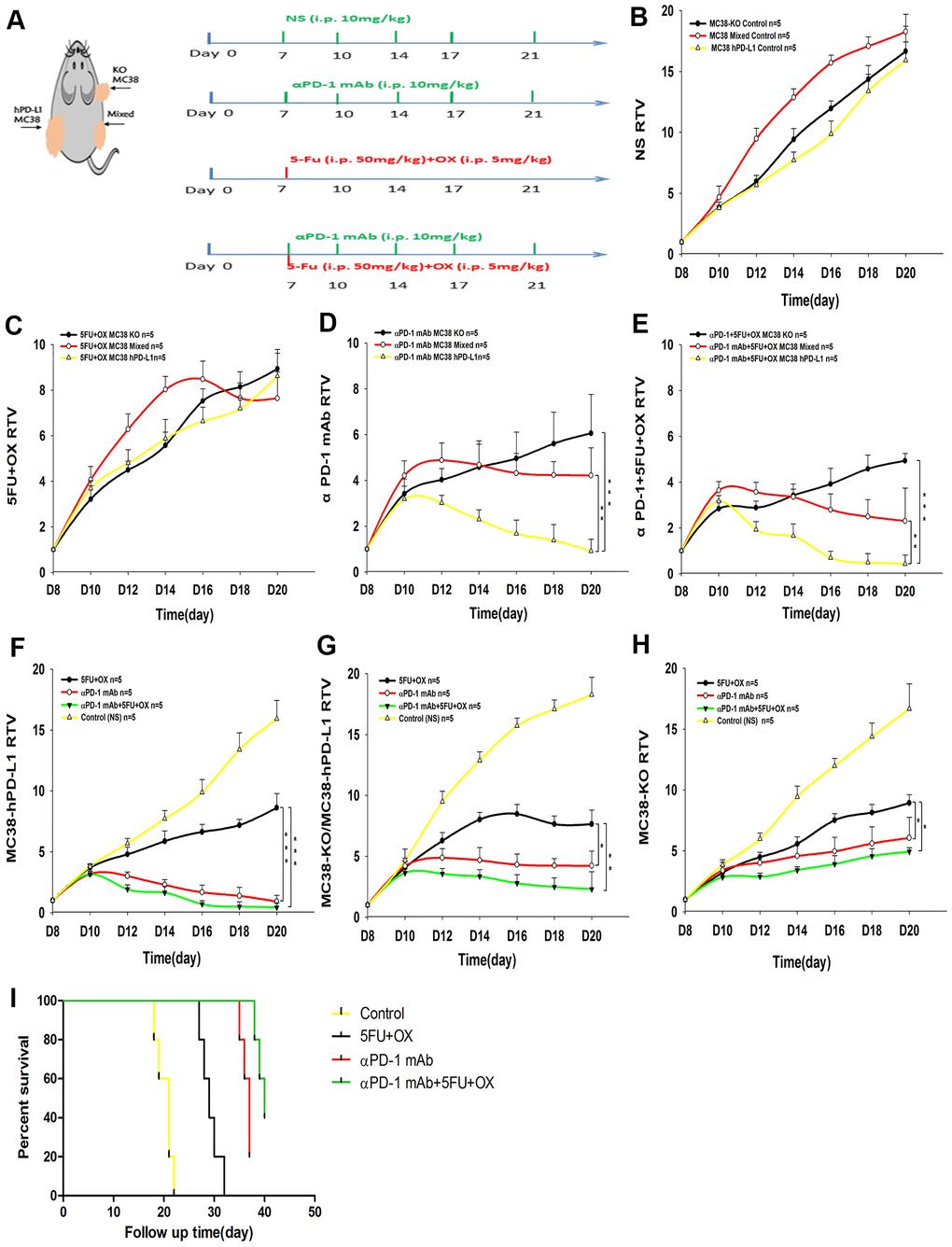 Figure 1. Effect of different treatments on tumor growth in tumor-bearing mice. (A) Treatment schedules. (B–H) Tumor growth delay cure (n=5) (B) The growth cure of different tumors with normal saline. (MC38-KO, black; MC38 Mixed, red; MC38 hPD-L1, yellow). (C–E) Different treatment methods for different tumors. (F–H) The growth of different tumors treated with 5Fu and Oxaliplatin (OX), anti-PD-1, or combined treatment. (I) Mice survival analysis. ***P <0.001, **P <0.01, *P <0.05.

RT-PCR analysis
Total RNA from different tumors tissues was extracted by Trizol regent and reverse transcription was performed using the Servicebio®RT First Strand cDNA Synthesis Kit (G3330, Servicebio, Wuhan, China). Real-time PCR was performed using the 2×SYBRGreen qPCR Master Mix (G3322, Servicebio). Primers used in this experiment were as follows: Mouse PD-L1 forward: 5'-CTACGGTGGTGCGGACTACAA-3', reverse: 5'-GGATAACCCTCGGCCTGACATA-3'; Human PD-L1 forward:5'- GCCGAAGTCATCTGGACAAGC-3', reverse:5'- GTGTTGATTCTCAGTGTGCTGGTCA-3'; GAPDH forward:5'- CCTCGTCCCGTAGACAAAATG-3', reverse:5'- TGAGGTCAATGAAGGGGTCGT-3'. The 2-ΔΔCt method was used to analyse the relative gene expression.
IHC and IF staining
Following sacrifice of the mice, half part of the tumors were embedded in optimal cutting medium (OCT 4583; Sakura Finetek), and frozen in -80 degree. The rest part of the tumors were fixed in 10% formalin overnight (within 12 h) at 25° C and embedded in paraffin blocks. The 4-μm thick sections were prepared for IHC and dewaxed.
After antigen retrieval using 10 mmol/l citrate buffer, sections were incubated with 3% H2O2 and blocked with 5% BSA for 1 h. Then the sections were added with the primary anti-PD-L1 antibody at 4° C overnight. After rewarming to room temperature, the sections were incubated with secondary antibodies using the two-step polymer HRP detection system (OriGene Technologies, Inc.). The slices were visualized with 3,3-diaminobenzidine and then counterstained with haematoxylin.
For IF, 8-10 μm sections were fixed with 4% paraformaldehyde for 20 min and then blocked with 5% BSA at 37° C for 0.5 h. Then the sections were incubated with anti-PD-L1 (ab20592, ab213480, Abcam), CD8, (ab263946, Abcam), CD103(AF5155, Affinity), CD39(DF4031, Affinity) and Caspase-3 (ab13847, Abcam) primary antibodies at 4° C overnight. After being rewarmed for 1 h, samples were washed carefully and incubated with specific secondary antibodies (1:200; Thermo Fisher Scientific, Inc.) for 1 h at 37° C, followed with DAPI for 2min. Fluorescence images were measured using a Nikon H600L ECLIPSE 90i fluorescence microscope (Nikon Corporation; magnification, x200), and IHC images were captured with a light microscope (Olympus Corporation; magnification, x200). CD8 was imaged through red filters. PD-L1 was imaged through red and gray filters. CD39, CD103 and Caspase-3 were imaged by green filters.
Statistical analysis
The Statistical Package of Social Sciences (version 16.0; SPSS, Chicago, IL, USA) was used for data analyses. Results were shown as the mean ± standard error. We used GraphPad Prism software (version 7.04) and ImageJ software (version 1.8.0) for statistical analyses. P<0.05 was considered statistically significant. (*P < 0.05, **P < 0.01, ***P < 0.001).
Results
Discussion
The PD-1/PD-L1 pathway checkpoint block therapy has shown impressive clinical results. IHC analysis of tumor biopsies to assess immune checkpoint targeted expression is the routine clinical examination method [8]. However, checkpoint molecules are highly dynamic and heterogeneous. Thus, a new method that can better understand the spatiotemporal dynamics of the tumor-immune microenvironment is crucial for developing effective therapies of clinical application [9].
Recently, several preclinical studies of radiolabeled PD-L1 imaging agents have been published [10, 23–27]. Additionally, several clinical trials have been proceeding [28, 29]. These agents showed high specificity for imaging PD-L1 expression levels in a variety of cancers, which might be a potential method to guide clinical tumor immunotherapy. Among them, nanobodies can be used as an ideal PET imaging agent of PD-L1. In clinics, for the limited effect of immunotherapy alone on some PD-L1 positive tumors [4, 8], immunotherapy combined with other strategies is necessary to improve the synergistic effect.
In this study, we used a human PD-1 targeting antibody in murine models transfected human PD-1 gene for PD-L1 mapping and immunotherapy, to explore the possibility of PET imaging probe for evaluating the efficacy. 68Ga-NOTA-Nb109, as a PET imaging probe, had shown promising results because of its high purity and stability. PET imaging results showed a higher tumor uptake in MC38-hPD-L1 tumor than that in MC38-hPD-L1/KO tumor mixture and MC38 KO tumor, which demonstrated that 68Ga-NOTA-Nb109 could selectively and intensely accumulate at PD-L1 positive tumor. These results were further confirmed by our IHC analysis. From the PET imaging and biodistribution studies, the tracer was mainly retained at kidney sites. The tumor radioactivity remains relatively stable for 2 hours. 68Ga-NOTA-Nb109 exhibited promising target-to-background ratios in MC38-hPD-L1 tumor and MC38-hPD-L1/KO tumor (11.4±0.29 and 6.33±0.53 tumor-to-muscle ratios in 1h, respectively). By contrast, due to its low uptake in MC38 KO tumor, the target-to-background ratios were low, and tumors were invisible during the imaging process. In addition, before and after the injection of Sindilizumab, there was also no effect on the tumor uptake of 68Ga-NOTA-Nb109, as similar tumor uptake and images were obtained. This finding demonstrated the binding sites were different between 68Ga-NOTA-Nb109 and anti-PD-1 antibodies to PD-L1. 68Ga-NOTA-Nb109 has a great potential in PD-L1 clinical testing and evaluation of prognosis.
More importantly, the PD-L1 mapping from PET scan displays strong corroborative evidence on the immunotherapy effect of different immunocompetent tumors. In the tumor growth delay study, after one course of the antibody Sindilizumab, MC38-hPD-L1 tumor and MC38-hPD-L1/KO tumor was suppressed, whereas an effect on PD-1 blockade efficacy was also observed on MC38-KO tumor. Furthermore, we evaluated PD-L1 on tumor or host cells in different humanized tumor models, suggesting that PD-L1 on host might be essential for PD-L1 and PD-1 checkpoint block antitumor immunity therapy. Lin et al. [18] and Tang et al. [19] reported similar results that PD-L1 in host myeloid cells was essential for the response to checkpoint blockade. Compared with these studies, we also found that the expression level of PD-L1 on tumor cells affected the response to checkpoint blockade, which requires further verification on other species tumors. However, to develop the combination with chemotherapy and anti-PD-1 therapy in our study, tumor growth was not further inhibited which may be related to the better immunogenicity of MC38 tumor. We also found that anti–PD-1 therapy activates tumor-reactive CD8+T cells in tumor microenvironment.
There are several advantages in our present study. First, we used the newly developed non-blocking nanobody with a high specific affinity for human PD-L1, which bound at non-functional sites and did not affect the specific binding of PD1/ PD-L1 blockade, while previous published studies [5, 10, 23, 24, 30–32] often used anti-human PD-L1 antibodies as radiolabeled PD-L1 imaging agents. Second, we utilized human PD-L1 tumor models and human PD-1 transgenic mice, simulated the interaction between human anti-PD-1 antibody and PD1/PD-L1 target in mice, so that our results could be more easily translated in clinical than other certain studies which use murine systems. Third, compared with other studies that constructed different types of tumors in one mouse, our strategy was to construct the same tumor with different PD-L1 expressions. It can avoid the interference caused by the specificity of different tumors.
The aim of this study is to expand the application of Nb109 and explore the possibility of Nb109 to predict the treatment effect, but there are several limitations should be acknowledged. Compared with the study by Emily BE et al. [33] observed that radiolabeled PD-L1 imaging PET could monitor changes of tumor PD-L1 expression followed radiotherapy. One limitation of our study is that no PET imaging was investigated after different treatments. Second, PD-L1 expression is expected to change in different cell lines and different treatment regimens, then the results of the combined treatment strategy obtained in this work may not generally apply to all types of cancer and treatment models. Third, the results PD-L1 in host cells might be essential for the response to checkpoint blockade need to be further verified by PD-L1-and PD-1- deficient mice. Further studies are expected to clarify the precise mechanism.
Conclusions
In conclusion, 68GaNOTA-Nb109, a newly developed 68Ga-labeled nanobody as a PET probe to assess the PD-L1 expression can monitor changes in PD-L1 expression. Additionally, the therapeutic potency of the new PD-1 targeting antibody, Sindilizumab, was evaluated in tumor-bearing mice and inhibited the PD-L1 positive tumor successfully, particularly the PD-L1 knockout tumor. The host immune system might be essential for PD-L1 and PD-1 blockade therapy, which may mechanistically explain for this potential therapeutic efficacy. Further studies are expected to clarify the precise mechanism and to promote the application of PD-L1 PET.
Ethics approval
The animal experiments were approved by the Animal Ethics Committee at the Shandong Cancer Hospital Affiliated to Shandong University (Jinan, China).
Abbreviations
PD-1: programmed cell death protein-1; PD-L1: programmed death protein ligand 1; TILs: tumor infiltrating immune cells; PET: positron emission tomography; IHC: immune- histochemistry; HuMAb: human immunoglobulin monoclonal antibody; IF: immunofluorescence; HPLC: High-Performance Liquid Chromatography; SEC: size-exclusion chromatogram; RTV: relative tumor volume; hPD-L1: human PD-L1; KO: knock out.
Author Contributions
XS and JY designed the study and revised the draft. YY and YY drafted the manuscript and completed the main experiments. HG and JZ created the figures and performed statistical analyses. XL and YS performed the histological examination of the tumors. LX and FS assisted in designing the study. SQ analyzed the data and revised the manuscript. All authors read and approved the final manuscript.
Conflicts of Interest
The authors declare that they have no conflicts of interest.
Funding
The present study was supported by grants from the National Natural Science Foundation of China (grant no. 81572970, 82073337), Shandong Provincial Natural Science Foundation (grant nos. ZR2019LZL019), the Subject Assignment of China National Key Research and Development Program (grant no. 2018YFC1313200), the Jinan Scientific and Technology Development Project (grant no. 201805005), the Innovation Project of Shandong Academy of Medical Sciences (2019-04), and the Academic Promotion Program of Shandong First Medical University (2019ZL002).
Editorial Note
&
This corresponding author has a verified history of publications using a personal email address for correspondence
References